The Royal Philatelic Society of New Zealand Publications
The following publications are currently available. Email the Office to order.
"A Bibliography of New Zealand Cinderellas"
Desmond E. Hurley
RPSNZ 1997
ISSN: 1174-3921
108 pages, A4
$30 ($25 for members) + P&P
...delivers a detailed list of bibliographic references to many NZ Cinderellas and other back-of-the-book items.
"A Bibliography of New Zealand Military Postal History"
Desmond E. Hurley
RPSNZ 1998
ISSN: 1174-3921
60 pages, A4
$20 ($15 for members) + P&P
...contains sections on the New Zealand Land Wars, the South African (Boer) War, Territorial operations, World Wars 1 and 2 and subsequent Peace-keeping operations up to the Gulf War.
"The Postage Stamps of New Zealand Volume IX"
Robert Samuel
RPSNZ 2007
ISBN: 0-9597883-7-9
492 pages, limited edition of 500
Gold medals at Sydney Stampshow 2007, St. Petersburg (FIP) 2007 & New Zealand National Philatelic Literature Exhibition, Palmerston North, 2007, Reserve Grand and Gold at APS Stampshow 2007
$45 ($35 for members) + P&P
This volume, the first in full colour, covers New Zealand's Postal Stationery from Queen Victoria to Queen Elizabeth. Written by the late Robert Samuel, this publication will surely become the authoritative work in this field.

The comprehensive chapters deal with postcards, Lettercards, Registered Envelopes, Envelopes, the 1932 Adhesive Provisionals, Newspaper Wrappers, Aerogrammes, Government Department Printed Franks, the 6d King Edward VII Telegraph Form, Stamped Adhesive Lables, Impressed Honey Seal Stamps and Postal Notes.

Also covered are the various private items issued over the years, the Department of Education postcards and envelopes, non-denominated Stationery, and sections on Samoa, Cook Islands and Niue. Robert was New Zealand's expert in this area of collecting and he had brought together all his research in this one volume.

There are two Appendices and a comprehensive checklist to complete this large volume of 492+xvii pages.
"The Vending & Affixing Machine Coils of New Zealand"
Stanley J. Kundin
RPSNZ 2009
ISBN: 978-0-9597883-9-6
148 pages, A4, hardcover, limited edition of 250
Gold with Felicitations at the 11th NZ National Philatelic Literature Exhibition held at Palmerston North
$35 ($25 for members) + P&P
...subtitled "A study of the stamps, the machines and some of the personalities involved".

Since the tragic fire at his home, that claimed both his life and his collection, this publication provides the only remaining reference for many irretreviably lost items.

With colour throughout, it describes in detail the Dickie Brown machine, the trials and the Parker vending machine. There are chapters on identifying the different trial coils, the commercial development of the Dickie Brown Vending machine, early machines and vending machine coils. The postage stamps covered range from the first 1d Universals through to the last QEII design issue of 1978.

Also covered are the affixing machine coils and the test, dummy and training coils, together with appendices. The A4 size hardcover monograph of 148 pages is a comprehensive coverage of this fascinating aspect of New Zealand philately.
"The Parcel Carriage Labels of New Zealand"
Adam Miller
RPSNZ 2011
ISBN: 978-0-9876534-0-6
100 pages, A4, softcover, ring-bound
$40 ($30 for members) + P&P
...a comprehensive A-Z listing of New Zealand's parcel carriage labels – over 1100 different from about 70 issuers. Covering from the earliest known from the 1890's, the book continues through to just before the rise of the peel & stick Courier types, generally around 1980-85. 

All the well-known names are here, including The New Zealand Express Co., New Zealand Railways Road Services, Midland, Newmans and Mt Cook Lines. Many less well-known companies are also covered, some recorded for the first time, including bus companies such as Blue Bus, Hodgson's Motors or Strathmore; freight carriers like E. Birch or A.B. Wright; and even launch services carrying packages on their normal mail contract runs.

Major and minor varieties of format, separation, colour and font are noted, as are receipt parts, booklets, instructional labels and cancellations. All non-instructional items have been given a rarity rating, from RRR (1-2 copies known) to C (over 50 copies). Most are recorded as less than 10 copies.

There are 4 pages of introductory matter, plus a bibliography and reference section. Deliberately excluded issuers (the more recent Couriers) are listed following the Index. Each copy has affixed to the title leaf a half-pane of 4 of the 20c Johnson's Launch label overprinted for Kamahi Launch Services.
"The Postage Stamps of New Zealand Volume X"
Brian Vincent
RPSNZ 2013
ISBN: 978-0-9876534-3-7
800 pages, full colour, hardcover with dust jacket, limited edition of 350
$55 ($45 for members) + P&P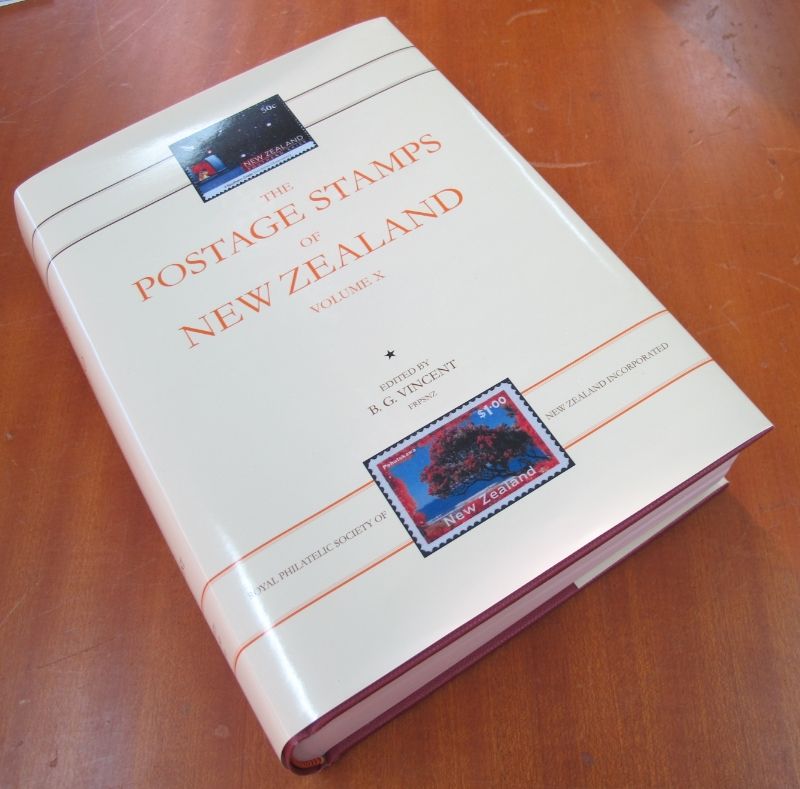 ...covers in detail all the New Zealand Post issues from 1995 to the end of 2009.

The stamps are arranged and described in chapters including the definitive issues, commemoratives, health stamps, Christmas, scenic and heritage issues.

In addition there is a special chapter outlining the development of FDC collecting in New Zealand as well as chapters on the Stamp Points issues, Prestige Booklets and Ross Dependency.

CALs are recorded in detail and there is an update on the postal stationery of New Zealand.

The book also includes what is certainly the most comprehensive study of the single pane booklets issued during this period.

The more recent Game Bird stamps are outlined and there is a historical account of pigeon mail services in New Zealand.  

The last of the Frama issues are covered and there are appendices on OPSO overprints (updated since the publication of the earlier book on this topic), Cleaned overprints and a short postal history update.
"Pigeon Posts & Messaging Services of New Zealand and Some Pacific Islands"
Desmond E. Hurley
RPSNZ 2014
ISBN: 978-0-9876534-2-0 1174-3921
34 pages, A4, softcover
This posthumously published Bibliography by Des Hurley represents the RPSNZ's first foray into online publishing.

This is now available for purchase via www.lulu.com for AU$15 plus p&p. A preview is available online. Payment can be by credit card or Paypal.

The advantage of this method is the postage costs are much reduced, as lulu.com has the book printed and posted from their nearest global agent to you.  

This monograph, the third bibliography by the late Dr Hurley, covers in 34 A4 pages a large range of references into our local Pigeon Posts.

The bibliography starts with an Introduction which includes this:

"This bibliography arose in the course of other bibliographic work and is almost certainly incomplete; however, any Great Barrier articles which might have been missed would probably have only rehashed old ground. I believe that most, if not all, of the significant articles are included. Where an item is brief or difficult to obtain, it has been reproduced in its original form, in part or in its entirety. It goes further than Goodkind's listing; it also brings the references up to date an includes references to all other New Zealand Pigeon Posts and Messaging Services that I have been able to find. Most of the references are followed by a brief assessment of their salient points."

followed by two main sections - The Great Barrier Island Pigeon Service, and Pigeon Services other than Great Barrier.

An essential research reference for this area of local Aerophilately.
"Wartime Internment in New Zealand"
Dr Andrew F. Dove
RPSNZ 2017
ISBN: 978-0-9514667-7-3
128 pages, A4, softcover, perfect-bound
$30 ($20 for members) + P&P
...provides an overview of internment during the World Wars in New Zealand. Using original research from the author's collection, previously published philatelic information, extracts from New Zealand Archives The New Zealand Gazette and contemporaneous newspaper accounts, it gives an account of those interned, the conditions under which they were held, and the postal arrangements made for them.

Although New Zealand was rarely directly threatened during either World War, the security of the nation was a high priority for the Government. In both wars, a mixture of local residents judged to be a danger, German residents of the Pacific Islands and enemy combatant Prisoners of War were interned.

During the First World War, the internment system was organised under direct instructions from the Imperial Authorities in London. In contrast, during the Second World War, procedures and regulations were determined by the New Zealand Government. In both wars, the decision was made to treat those interned as Prisoners of War. This meant that they had to be afforded the privileges specified in The Hague and Geneva Conventions and, in particular, the facility to communicate with family and friends overseas. This required special arrangements to be put in place as normal mail routes were closed by the Wars. Overall, the internees seem to have been well treated compared to PoWs in other parts of the world.

The first part of the book covers the First World War and contains sections on the camps where the internees were held as well as the people caught up in the net. Some special Postal Stationery was produced for the camps and the different printings are described. There is also extensive coverage of the censorship arrangements and postal markings applied to the correspondence.

The Second World War is covered in similar detail although there were fewer internees and they were kept on Matiu/Somes Island until their move to Pahiatua. Again, the postal marks and censorship arrangements are covered in detail. There is also an account of the treatment of Conscientious Objectors and of families who accompanied the internees from the Pacific Islands.

The appendices include chronological censuses of items sent by internees during their stay in the camps in both wars. They are not claimed to be complete as the information has been gathered by the author from other collectors, philatelic literature, auction catalogues etc. but the changes in postal markings show a consistent time line. Further examples will, no doubt, come to light but it seems likely that these will tighten the recorded dates on which changes occurred rather than requiring a complete review of the picture.

Little has been written on the subject of internees' mail compared with other aspects of New Zealand philately. This is due, in part, no doubt to the scarcity of World War I material: the generally accepted view is that less than 100 items have survived. The WWI census reported includes 80 examples, and the WWII, 77. A numbering system has been adopted to allow further examples to be added in chronological sequence.

Overall, this is a significant contribution to the understanding of a part of New Zealand's history and its local contribution to the war effort in the twentieth century. It will be of interest to collectors of postal history of the period and will, hopefully, serve as a stimulus to further discussion on the subject.
"The New Zealand Stamp Collector - Celebrating 100 Years - 1919-2019"
Brian Vincent & Richard Bloxham
RPSNZ 2020
ISBN: 978-0-473-51548-5
200 pages, A4, softcover, perfect-bound
$39 ($34 for members) + P&P
Launched at NZ2020, this 200-page A4 full-colour special publication celebrates the centenary of our Journal.

Contents
1. 100 Years of The New Zealand Stamp Collector - Adam Miller FRPSNZ & Brian Vincent FRPSNZ
2. New Zealand Chalon Printing Dies 1854 - 1865 - Gerald Ellott MNZM, RDP, FRPSL, FRPSNZ
3. The New Zealand Chalon Vertical Overlaps of 1863 - Andrew Gould FRPSNZ
4. New Zealand Chalons cancelled using the Perkins Bacon Obliterators - What more is there to learn? - Klaus Møller
5. The 1882 'Provisionals' and a new set for catalogue listing - Robin Gwynn RDP, FRPSL, FRPSNZ
6. The Duplex Perforations of De La Rue & Co. on New Zealand's 1935-36 Pictorials - Geoff Rickards FRPSNZ
7. New Zealand Law Courts Revenue Stamps - Mark Benvie FRPSL & Alan Craig FRPSNZ
8. L Sanderson, Second Secretary/Treasurer of the Philatelic Society of New Zealand - Lindsay Chitty FRPSL, FRPSNZ
9. Jim Hanna - A History of his Covers - Stephen Jones
10. Mechanical Copyright Stamps used in New Zealand - Adam Miller FRPSNZ